---
2020 Community Mini-Grant Recipients
AAUW funds bolster
community programs, services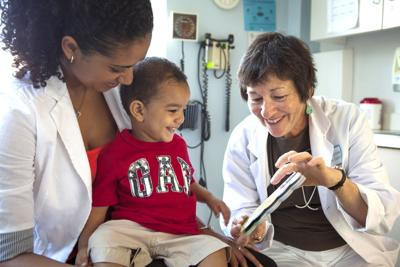 Walla Walla Branch of American Association of University Women recently pumped $20,000 into the community from its grants program.
Members annually raise funds through a kitchen tour and a giant used book sale. "With solid community support and donations, the events raise money that funds college scholarships, leadership conferences and STEM camps," said Linda Brown, AAUW grants chair. Funds also support mini-grants to local community programs that address the AAUW mission of advancing equity for women and girls through advocacy, education and research, she said.
The Walla Walla Branch donated $5,000  to the Blue Mountain Community Foundation Greatest Need Fund, Linda said. "With $15,000 to disperse in additional grants, the application deadline was moved to September to accommodate new gaps created by Covid-19 realities," she said.
Selected organizations will use the grants to enhance and bolster community programs and services:
Reach Out and Read/Walla Walla Pediatric Clinic provides age-appropriate books to children ages 6 months to 5 years through physician well-child visits.
Walla Walla Public Library. With the library's purchasing budget frozen due to the pandemic, the library can now select new books to add to resources available to community readers of all ages.
Children's Home Society/Early Learning Program/Parents as Teachers. These local programs bring developmentally appropriate activities to the child's home, give information to parents to help understand their child's development, provide activities that help parents develop closer bonds, and identify family strengths and goals. This grant will support take-home packets since COVID-19 has restricted home visits by staff.
Prescott School Library. Literacy is a major goal for children attending this rural district in our county. The mini-grant will counteract their frozen budget for books and materials and help the school library become a program that encourages exploration and excitement.
Hope Street House will soon open a certified sober-living home for women in the Walla Walla Valley. Stable housing and support for longterm recovery from substance use disorder benefits not only the women in this program, but also our entire community.
STAR Project was granted funds to support female clients as they return to higher education after incarceration. Women who are actively attending school and maintaining passing grades may receive assistance with books, clothing and other difficult-to-fund needs.
Walla Walla Crime Watch has recently created a "soft interview room" for victims of crime. When victims/survivors come in to be interviewed by detectives, an advocate can offer items to comfort them and books to inform and support trauma recovery. This grant will support such resources for teen girls and women our community.
Children's well-being/COVID-19 needs
YMCA Emergency School Age Care 2020 Project will address childcare gaps and educational support services for families that are struggling financially due to pandemic crises.
Cultural arts and education
Fort Walla Walla Museum is switching from Museum After Hours programming at the museum site to digital programming. To recognize the 110th anniversary of women's suffrage in Washington State and the 100th anniversary of the 19th Amendment, two video programs will be developed and shared with interested community members at no cost. AAUW funds will support these engaging programs.
Carnegie Picture Lab will be supported in the development of individual art kits for students now studying at home through Walla Walla School District online learning. Arts education and creativity can be on-going during pandemic restrictions.
For more information regarding the current Kitchen Tour, free this year but donations gratefully accepted, the 2021 Used Book Sale or membership and activities go to wallawalla-wa.aauw.net/.
---
2020 Community Mini-Grant Applications
Click here for updated (2020) downloadable application form (download, complete and return by mail or electronically)
Click here for online fillable application form (complete online, download, return) 
Community support plus member volunteer hours result in funds available for investment in important endeavors.  In addition to college scholarships for local women, leadership and science camps for girls, and support for post-doctoral fellowships, this AAUW Branch awards several mini-grants to Walla Walla Valley projects and programs that support the AAUW mission.
Mini-grant applications must demonstrate consideration of AAUW's mission, be a local project, and provide some recognition and visibility for our AAUW branch. A member committee meets to review applications, makes recommendations to the Board, and then announces grantees at the AAUW May Dinner meeting.
2019 AAUW-WW Community Mini-Grant Awardees



Literacy:
Lincoln H.S. (update library)

Reach Out & Read (St. Mary/Prov.)

Christian Aid/Child Development Program

BMAC (adult literacy outreach/volunteer support)

Children's Home Society (Valle Lindo/summer)
STEM:
Plus Delta "The Club" (afterschool)

Camp Invention (2 scholarships)
Cultural Arts/Education:
Shakespeare Walla Walla

Little Theater (summer children's theater)

Carnegie Picture Lab

Transitions Learning for Life (Latino Club/Scouts)

Impact! (art and writing therapy for women in transition)

YWCA "Notes from the Road" (photo exhibit)
---
2018 AAUW-WW Community Mini-Grant Awardees
Catholic Charities – ACES training and counseling resources for
staff at The Loft (new teen shelter at The Hub)
Community Resilience Initiative – Development of 6 modules for local parent education re: trauma and resilience
Camp Invention – Scholarships for two girls to attend local summer science camp
Children's Home Society – Books for summer literacy program at Valle Lindo
Carnegie Picture Lab – Art supplies and staffing for local summer art classes
Learning for Life Explorer Post 311 – Support for Latino Club branch in College Place
The Health Center – Support for on-going counseling to support students through the summer
Prescott School library – New and replacement books
WW Police Department – Domestic Violence books
STAR Project – educational support for women transitioning from prison
Blue Mt. Action Council  – support for adult literacy program
Impact!   – support for women in economic transition