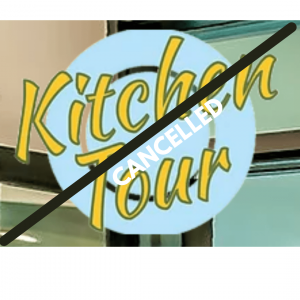 As of September 1, the 2021 Kitchen Tour planned for Sunday, October 3 is cancelled.  We at Walla Walla AAUW are committed to our fundraising goals and to our mission to promote education and leadership for women and girls.  At the same time, we are aware of the great trust shown to us by homeowners, our volunteers, and community members who attend our events, that we provide a safe and positive experience.
We on the Kitchen Tour Committee have done our best to stay current with County Health Department and CDC data, and to be aware of recommended protocols for gatherings both indoors and out.  We have accepted that for us to reliably monitor masking, social distancing, and numbers of people in each space, we would need at least twice as many volunteers as we currently have.  At the same time, we have heard from our volunteers that not all of them are comfortable working at a public event at this time.  Ultimately, for us to honor the goodwill and faith this community has shown for the AAUW and our efforts, we feel we need to cancel the October 3 in-person event.
We will be following the COVID situation as it evolves, and we will be planning a Kitchen Tour, or smaller tours, perhaps in a different format, at a later date.  We will have more definition and information as we go into the autumn months.
The Walla Walla AAUW at this time extends our gratitude to homeowners who have offered their kitchens and outdoor spaces to us, as well as our volunteers, sponsors, and advertisers.  We appreciate every one of you, and will look forward to working with you further, as we understand better how we may do so.
For more information contact Donna Murray at dmurr58@gmail.com
Cindy Deatsman, Publicity Committee
---
AAUW – Walla Walla
"Virtual" Kitchen Tour 2020 is LIVE!  

Our AAUW-Walla Walla Kitchen Tour has launched virtually this year. On October 4th, visitors to the tour were able to view this year's beautiful kitchens from the comfort of their own homes.
The tour will be LIVE through December and donations will be accepted throughout this time.
We need your help to continue to spread the word about this "virtual tour" so we can continue to support women's scholarships in our community. Please share with friends & family near and far!
Remember… the link below will be LIVE through December and donations will also be accepted throughout that time.
Click here to see our AAUW-WW Facebook page with daily updates! 
---
2019 Kitchen Tour – Oct. 6, 2019   
2019 Preliminary HIGHLIGHTS:
We had 423 tour goers turn in tickets at the kick-off.
Ticket Sales were $11,650. Raffle ticket sales were $1,306.
From all feedback –  we have happy tour goers and happy homeowners!
THANK YOU EVERYONE –
Your contributions and commitment to the tour made it a success
and a fun event for the community.
THANK YOU DONNA MURRAY-
Our 2019 Chairperson dug in and earned our respect and won our hearts.
The tour is in good hands going forward!
---
2019 AAUW Kitchen Tour Press Release
The Walla Walla Affiliate of the American Association of University Women (AAUW)
invites everyone to join us for our 17 th annual AAUW Kitchen Tour to take place from
12:00 -5:00 pm Sunday, October 6th.
Tickets for the fund-raiser are $20.00 each and are available at Earthlight Books, Bright's Candies & Gifts, or at our kick-off site the Whitehouse-Crawford Restaurant at 55 West Cherry Street on the day of the tour. AAUW Walla Walla members will also have tickets available for purchase.
Participants will tour 8 remarkable remodeled or new kitchens including some older
homes which have been remodeled to reflect the historic character of the house while
creating efficient kitchens, as well as new homes with completely modern materials and
design.
A must see kitchen this year is a new bed & breakfast that's been creating buzz
throughout the valley. Tour- goers will get a peek behind the scenes of this beautiful
property.
This year's tour again features exciting raffle opportunities of goods and services
generously donated by community members and businesses. Raffle tickets are $5.00 each
and will be sold at selected kitchens on the tour.
The kick-off location is at the historic Whitehouse-Crawford Restaurant at 55 West
Cherry Street between 12 -2 pm. Present your ticket to receive your Tour Guide and map
for this self-guided tour. You may also purchase your tickets at the kick-off. Kitchens
will be open to visit until 5:00 pm.
The annual Kitchen Tour is one of two fundraisers for the Walla Walla affiliate with
proceeds from the tour going towards scholarships to local women continuing their
college educations, opportunities for college women to attend leadership conferences,
Tech Trek Science Camp scholarships and local community grants for educational
projects
---
Thank You for Supporting the 16th Annual AAUW Kitchen Tour
Because the owners of eight homes opened their unique kitchens to more than 400 people in the community, our Walla Walla affiliate of the American Association of University Women raised approximately $14,000 during its 16th annual Kitchen Tour on Oct. 7, 2018.
Proceeds will help fund scholarships for local women and support education projects throughout the community, said Cecile Ervin, Kitchen Tour committee chairwoman.
The homeowners who shared details of design and construction in their kitchens with ticket holders are Kelly and JJ Menozzi, Alison Kirby and Dan Calzaretta, Brenda Bernards and Dan Smith, Kelly Watson and Dan Beebe, Robert and Lura Hafen, Dierdre and Ki Bealey and Craig and Charlotte Roberts.
Sponsors that supported the event included Bunch Finnigan Appliances of Kennewick and from Walla Walla, Gary's Paint and Decorating and t.h.e. Interior.
"The beautiful, designs, craftsmanship and products of these businesses were well represented in many of the homes on the tour," Cecile said.
Proceeds were also raised from four raffle opportunities made possible by donations from local businesses and individuals: an assortment of gift certificates from local retailers and restaurants, and a Wine Country Picnic-themed gift basket donated by Sue Gillespie. Raffle winners were Joyce Afward, Lisa Johnson, Barbara Suzui and Corinna Whitehurst.
Additional support for the benefit came in the form of ads placed in the full-color Kitchen Tour guide. The 2019 tour is slated for Oct. 6.  If you are interested in volunteering your time, or your kitchen, please contact Judy Peasley (gjpeas1070@gmail.com)
(originally published in the Walla Walla Union Bulletin 10/14/2018)