AAUW-WW 57th Annual Book Sale
February 18-20, 2022
Marcus Whitman Ballroom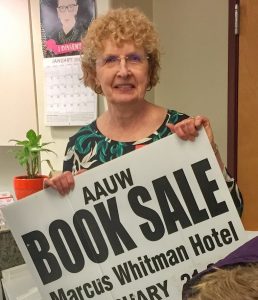 Also – if you are an educator, please mark your calendars for Monday, August 23, 2021 from 9-3!  Our Book Sale team is planning to hold a special pop-up sale for teachers during the month of August at the former YWCA Ice Chalet lobby.  More details will be coming.  
---
AAUW-WW Pop-Up Book Sales
Saturdays & Sundays (9 am – 5 pm)
October 9-31, 2021
First & Birch (former YWCA/Ice Chalet) 
Masks will be required
The categories offered will be:
Oct 9 & 10      Fiction
Oct 16 & 17   Collectibles
Oct 23    Cookbooks, Picture Books,  Chapter Books
Oct 24    Science Fiction, Young Adult
Oct 30    DVDs & CDs, Literature, Visual Arts, Performing Arts
Oct 31    US/World History, NW History, Military History, Political  Commentary, Biography
Prices range from $.50 to $4 for most items (children's $.50, CDs $1.00, DVDs $2.00, paperbacks $2.50, hardbacks $4.00, audio books $4.00).  Collectibles are priced individually. 
Credit and debit cards will be accepted, in addition to check or cash payments.  Children (14 and younger) each receive one free book of their choosing from the picture or chapter book categories.  
The Collectibles sale will feature books on almost every subject. You'll find signed copies, fine bindings, limited editions, illustrated books and much more. There will be an extensive selection of Northwest and local histories, including a number of hard-to-find titles. Collectible books begin as little as $6.00.     
---
Proceeds fund scholarships for local women returning to college, and local educational projects and events. For information and applications for the AAUW Walla Walla Scholarship Program, go to the Scholarships & Grants section of this website. The Book Sale is sponsored in part by Walla Walla Community College John Deere Program, Automotive Technology Program, Commercial Truck Driving Program, and the Women's Basketball Team.
To donate books to the Book Sale, or for more information, please call 509-386-0421 or 360-670-7629