Mission Statement:
AAUW advances equity for women and girls through advocacy, education, philanthropy, and research.
---
Coming Soon! The 16thAnnual AAUW Kitchen Tour
Sunday, October 7, 2018 
New Kick-Off Location
Marcus Whitman Hotel – Ballrooms Lobby – Noon to 2 pm
6 W Rose Street, Walla Walla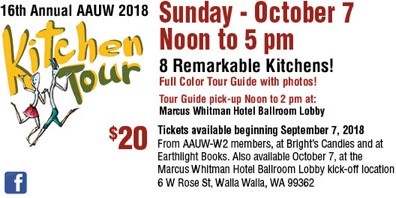 ---
Big Idea Talks – 2018
Co-sponsored by AAUW Walla Walla
and
Walla Walla Public Library
Walla Walla Public Library, 238 E. Alder
Sept. 27
"The Value of Bilingual Education." Victor Vergara,
Director of Bilingual Education and Latino Outreach, Walla Walla Public Schools
October 25
"Climate Change 102: What We Can Do."
Prof. Kirsten Nicolaysen, Whitman College
Nov. 29
"What the Wine Industry Means to Walla Walla."
Ashley Riggs, Walla Walla Valley Wine Alliance;
and Ron Williams, Visit Walla Walla
---
The 44th AAUW BOOK SALE February 22-24, 2019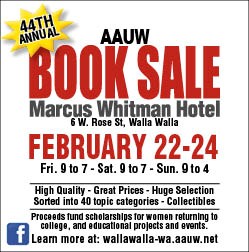 Applications are accepted starting in January 2019 for the AAUW-Walla Walla 2019 Educational Scholarships.  These scholarships were established to provide assistance to women who have completed at minimum one year of college (30 semester or 45 quarter credits) and have a desire to complete their undergraduate or post-graduate education.
Please note that there must be a break of at least one year at some time during their college education process.
Please go to the Blue Mountain Community Foundation's website for more information.