Mission Statement:
AAUW advances equity for women and girls through advocacy, education, philanthropy, and research.
---
Coming Soon! The 16thAnnual AAUW Kitchen Tour
Sunday, October 7, 2018 
New Kick-Off Location
Marcus Whitman Hotel – Ballrooms Lobby – Noon to 2 pm
6 W Rose Street, Walla Walla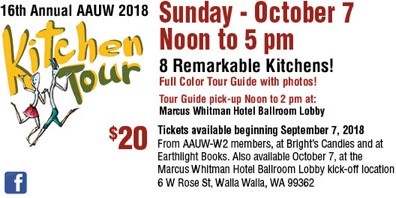 ---
Co-sponsored by AAUW Walla Walla and Walla Walla Public Library
AAUW/LIbrary Speaker Series – 2018
WHAT YOU NEED TO KNOW ABOUT . . 
Walla Walla Public Library, 238 E. Alder
April 26
"Not Your Mother's Nonprofit."
Christy Lieuallen, Executive Director of United Way of Walla Walla County
May 31
"The Affordable Housing Challenge in Walla Walla."
Riley Clubb, Walla Walla City Council
June 28
"Substance Abuse & Community Mental Health."
Diane Longmire, Comprehensive Healthcare
Sept. 27
"The Value of Bilingual Education." Victor Vergara
and Sergio Hernandez, Walla Walla Public Schools
October 25
"Climate Change 102: What We Can Do."
Prof. Kirsten Nicolaysen, Whitman College
Nov. 29
"What the Wine Industry Means to Walla Walla."
Ashley Riggs, Walla Walla Valley Wine Alliance;
and Ron Williams, Visit Walla Walla
---
The 44th AAUW BOOK SALE February 22-24, 2019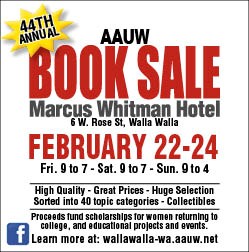 Applications are due in early March 2017.Check back for more information as the date gets closer.